Observance Of Vigilance Awareness Week 2019 – NIC Nagaland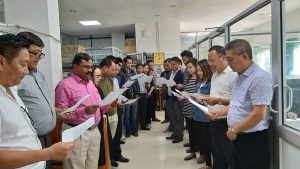 The Vigilance Awareness Week – 2019 was observed across NIC Nagaland.As part of the awareness programme, all the NIC officers, Staff and Outsource manpower took the Integrity pledge on the theme – "Eradicate Corruption Build a New India.
In the NIC Nagaland State Centre, Shri Sushanta Kumar Mondal, STD and SIO administered the Integrity Pledge to officers, staff and hired manpower. The DIOs of the districts too administered the pledge in the respective district headquarters.